Versions of the Traditional: A Journal of Translations From Indigenous Cultures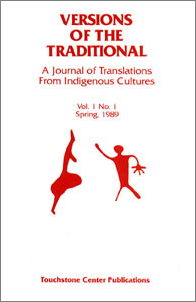 Touchstone Center Publications, 1989
A collection of translations by outstanding poets, anthropologists, and story-tellers, who participated in the Center's long-term series at the American Museum of Natural History, rendering the mythic and poetic material of indigenous cultures throughout the world. Included are translations from, amongst others, the Aztec, Nuer, Egyptian, Navajo, and Andamanese, by Joseph Bruchac, John Bierhorst, Steven Lonsdale, Terese Svoboda, Judith Gleason, Dennis Tedlock, David Cloutier, David McAllister, David Guss, Diane Wolkstein and W.S. Merwin.
31 pages • paperbound
Download and view book as a PDF.
Contents
The Shining Mountain, Translated by Joseph Bruchac
Gluskabe and Dzidziz, Rendering by Joseph Bruchac
A Song From The Ballads of The Lords of New Spain, Translated by John Bierhorst
The Dancers, Adaptation by Steven Lonsdale
The Energy of The Dance, Version by Steven Lonsdale
Just Anyone, Translated by Terese Svoboda
Road to The Congo, Translated by Terese Svoboda
Tortoise and Esili, English version by Judith Gleason
At The Court of Lord Five Thunder, Translated by Dennis Tedlock
Song of a Shaman Who Returned From The Dead, Version by David Clouter
Talking God's House Song, Translated by David P. McAllester
Navajo House Building Song, Translated by David P. McAllester
Wiyu And The Man Who Liked to Shoot Dolphins, Recorded and translated by David Guss
Isis And The Secret Name of Ra, Retold by Diane Wolkstien
If There Is . . . , Version by W.S. Merwin
It's Today I'm Supposed, Adapted from Spanish by W.S. Merwin