The Touchstone Center for Children is a nonprofit educational organization founded in New York City in 1969 by its present director, Richard Lewis. The Center was established in the belief that all persons have natural creative, imaginative and artistic capacities, which when encouraged and allowed to develop, find unique expression in each individual.
Through its Arts and Education projects, the Center creates interdisciplinary arts programs in classrooms that explore the role of the imagination and poetic thought, particularly in relation to the natural world, as pivotal to all learning. In addition, the Center conducts Workshops and Seminars for adults on the role of the imagination, the play of imagining within the learning process, and how at all levels of education, the use of elemental themes and images based on natural phenomena can strengthen and awaken our human relationship to the natural world. The Center's Publications Program has been concerned with documenting and reflecting upon the imaginative efforts of children and adults who have participated in the Center's activities, as well as publishing original books of poetry and myth and bringing existing books back into print, from a wide spectrum of cultures. The Touchstone Center Theatre Ensemble is the Center's ongoing theatre company dedicated to exploring for and with children and their families, the themes and images of the natural world in relation to the imagination, through the integration of poetry, myth and stories. The Archival Project, as part of the Center's publishing program, is an extensive collection of original children's writings and artwork – as well as audio and video tapes, photographs and documents related to the history, philosophy and work of the Center since its founding in 1969. The Archival Project also maintains an Overview of Activities of The Touchstone Center from 1969-2020, as well as a list of the Center's Sources of Funding and Support. Biographical information about present and recent participating staff members of the Center is included in Staff of the Center.
____________________________________________________________________
Recent Publications from The Touchstone Center
What If … A Poem of Our Imagining
What If … A Poem of Our Imagining was originally written by Richard Lewis, as an invitation for children, in a variety of classroom settings, to imagine themselves becoming qualities and aspects of the natural world; and in doing so, to express, through their own imaginative abilities, the life that is both ourselves and the nature we inhabit.
Now, a number of years later, a new reading and sharing of this poem, interpreted and augmented with original paintings by Gigi Alvaré, brings us even closer to the elemental intelligence — indeed, the imagination and conversation — that is nature itself.
"Our universe is teeming with a language that can be heard only if we will listen. Through prose and images, this book takes us to that place where our senses and imaginations open up to the possibilities and interconnectedness of all life."

– Mary Mix, The Rockwell Museum Director of Education

"What If … is a dance of images and imagining that unite pure delight in our minds."

– Katherine Miller, Elementary Art Educator

"It brought me comfort. Your beautiful poem and illustrations together are extraordinary. Every child should have a copy."

– Sarah Stern, Poet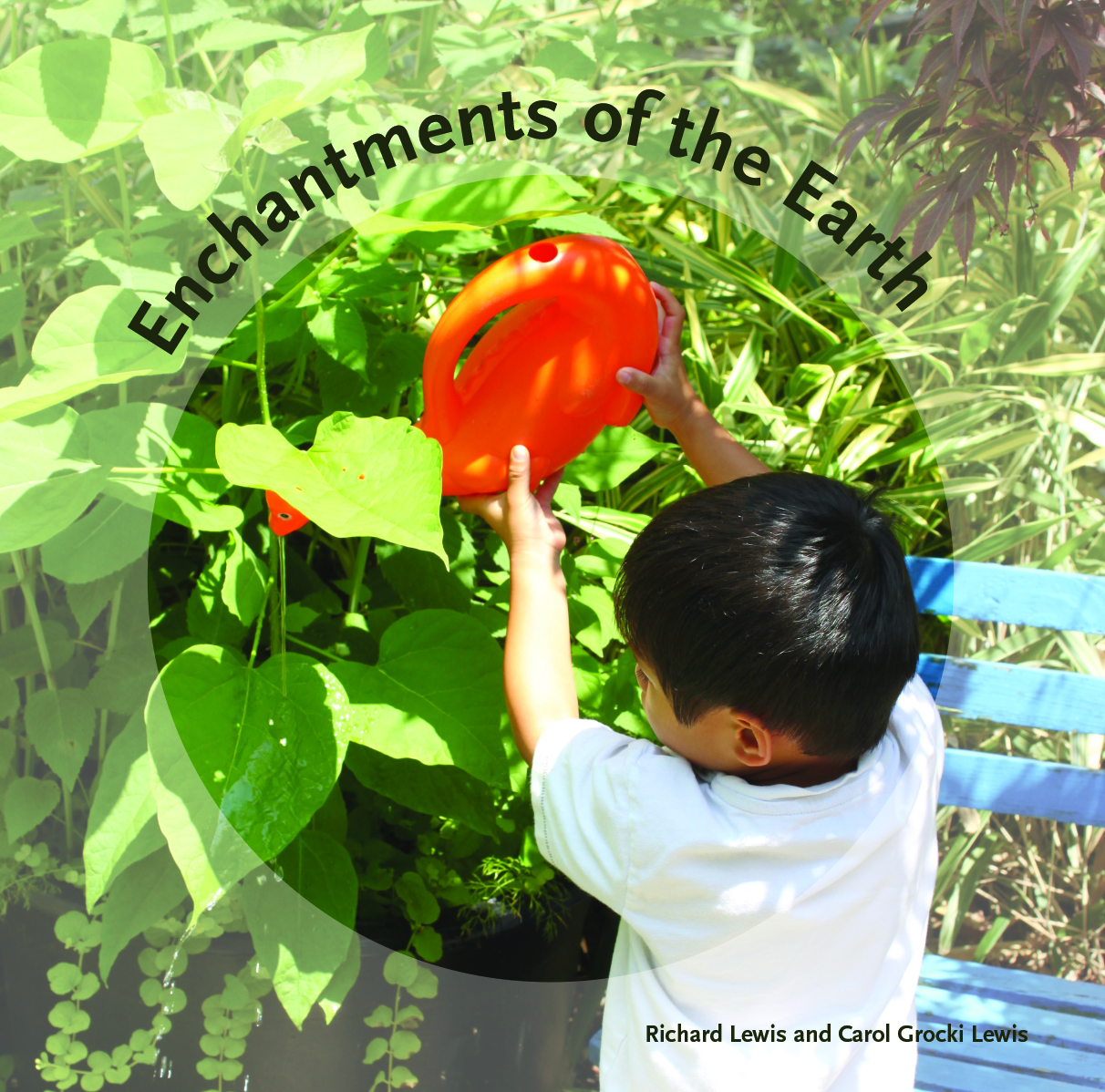 Based on a poem by Richard Lewis, and accompanying ceramic plates, vessels and freestanding objects by Carol Grocki Lewis,Enchantments of the Earth was a site-specific installation of The Touchstone Center in the garden at the Brooklyn Children's Museum. As the plants and flowers in the garden blossomed and grew during the spring and summer, both objects and poem became a part of the ever-growing landscape—intersecting with each other as if they were yet another innate and enjoyable species of the natural world.
"…speaks to the very 'roots' of what has to continue to be amplified as being important to all of us if we are to survive on this beautiful earth!"

– Jane Clarke, Director of the Lower School, City and Country School

"Richard Lewis and Carol Grocki Lewis dedicate their beautiful new book, Enchantments of the Earth, to 'children everywhere who will be the stewards of the garden that is our earth.' This sensitive, thoughtful message, conveyed by Richard Lewis's poetry and Carol Grocki Lewis's ceramics, and the images of children caring for the magical garden, also speaks to the important message that we must nurture and celebrate the flowering of each child."

– Renée Dinnerstein, teacher and author of Choice Time: How to Deepen Learning Through Inquiry and Play.
Taking Flight, Standing Still: Teaching Toward Poetic and Imaginative Understanding
In this collection of recent essays and reflections, Richard Lewis shares his pursuit of teaching as a means of deepening a child's poetic and imaginative understanding. He makes clear, through examples of his own teaching and the thoughts and writings of children, how much of what each child brings with them, as they play and imagine, dream and wonder, is a necessary and profound part of our human consciousness and creativity. And throughout he asks us to listen to the conversation each of us began in childhood, to the flight and stillness of our own imagining, to those understandings and learnings, in ourselves and in children, that continue to be the basis, the poetry, of who we are – and the nature we inhabit.
"Poets and children are natural companions. The child dreams up worlds apart, without instruction, and the poet has never outgrown these childhood necessities. When Richard Lewis comes to visit, the classroom suddenly opens to a sky filled with celestial beings, and butterflies arrive to carry us to distant planets. It is but a short distance from the poet's imagery to a child's sense of joy and sadness, and we readers take flight with the children as they find the words that express their feelings. Once again, Mr. Lewis shows us the hidden world of childhood and makes us want to change our own classrooms into magical places."

– Vivian Gussin Paley
Teacher and author of, among others,
A Child's Work: The Importance of Fantasy Play

"Emphasizing the value of childhood experiences, Lewis reveals how the very essence of those experiences can release creativity and enhance imagination. Lewis's own thoughts and writings from his previous experience teaching children help strengthen his argument. Thought-provoking descriptions of writings and poetic reflections from children enable the reader to understand how imagination and play are important in student learning."

– SchoolArts Magazine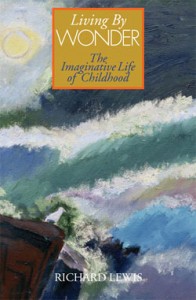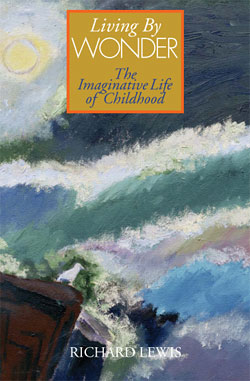 Living By Wonder: The Imaginative Life of Childhood
In this group of twenty essays, spanning over two decades of work with children and adults, Richard Lewis looks at the life of the imagination of childhood. Exploring various facets of children's play, art, stories, poetry and language-making each of these essays attests to the importance of nurturing and supporting the imagination as a necessary part of all learning. Addressed to anyone concerned with the emotional, spiritual and intellectual life of childhood, Living By Wonder is a compelling and timely statement.
"If any teacher is tempted to abandon the arts in favor of focusing on raising test scores in rote ways, please read this book to renew your commitment to the imaginative and emotional needs of your students."

– Dee Dickinson, New Horizons for Learning Journal

"…The language of poetry is Lewis' medium, and….he places poems by well known masters with the writings of his students, making no distinction between them, illustrating the richness of children's interior worlds."

– Lynn Neuman, Lincoln Center Institute

"….these heartfelt essays will give readers a new respect for the 'heroic' quality of a child's imagination."

– Publishers Weekly